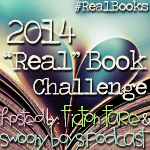 Uh...is August really over? Where did summer go?! Have I really been in San Diego all this time? Weird. Well I binge read one of the best series this month (two actually but the other one was digital) so below I get to highlight that along with some books I didn't like unfortunately. What can ya do?
Thanks again to the ladies at
Fiction Fare
and
Swoony Boys Podcast
for hosting The "Real" Book Challenge!