I know it's been quiet on the blog recently but I'm trying to get some motivation to cross post my mini-reviews from
Instagram
and write longer reviews for the books I have more to say about. I've got a few reviews and ideas in the wings so stay tuned if you're still here! I've been reading so many incredible books lately so here's a roundup of mini-reviews of the books I've been reading and loving lately!
DEAR MRS BIRD by AJ Pearce |
A few weeks ago I read DEAR MRS BIRD because Hannah had read and loved. She definitely nailed it with a historical Bridget Jones vibe and I had such a great time reading this book. A woman with goals to be a Female War Correspondent accidentally finds herself instead being an assistant to a crotchety, set-in-her-archaic-views advice columnist. I loved this book! It was so fun to read, I loved the heroine Emmy and her ambitions and her relationship with her best friend. While there are many moments of humor, there also was a surprising level of emotional depth that I wasn't expecting. War time does not come without its costs and how Emmy navigated her own choices and the advice she gave was fantastic to read about.
READ THIS IF...you love historical fiction, WWII London, and females with Ambition.
CHARLOTTE WALSH LIKES TO WIN by Jo Piazza |
After reading (and LOVING) THE KNOCKOFF by Jo Piazza and Lucy Sykes, I knew both authors were ones I had to have on my radar. CHARLOTTE WALSH LIKES TO WIN is about a woman from small-town Pennsylvania, who has been living and thriving in California the last few decades, who decides to run for office in her hometown. A very successful tech icon, Charlotte wants to do for her country what she has done for her company. She made huge changes in her company with progressive healthcare for women's issues and advocating for women, the middle and working class in general. It is brutally honest in its dissection of what it really means to be an ambitious woman in this world, especially in the world of politics. It made me rage on the inside the ridiculous injustices the heroine was forced to face and then I got even more angry because I've seen exactly the kind of unsupported smear campaign happen to women in real life. The discussion this book brought on with friends who've read it was just as insightful and really made me think about how utterly backwards the overarching view of women is in this world AND how much more scrutiny we are under for the actual dumbest, most insignificant shit.
READ THIS IF...you are into politics but ready to be infuriated about women of this world are treated.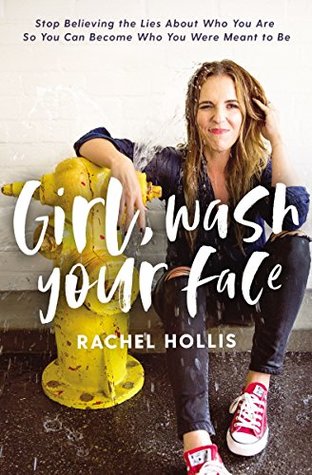 GIRL, WASH YOUR FACE by Rachel Hollis |
I started this book after seeing a snapshot of a page when Laura was reading it and it sounded very uplifting while being that perfect blend of honest and funny. When I actually got my hands on the book it was that and so much more. I absolutely fell head over heels in love with this book and Hollis' voice. I felt connected to this book and it's messages on a soul-deep level. Hollis has—to me—that perfect blend of honest, hilarity, self-deprecation, and poignancy without being preachy or look like she's trying too hard. Her incorporation of many beliefs I already had before reading only made me love this book and author more. Her inclusion of Christianity and it's teachings also played a large role in the book and it's message. Gah, I just felt like conquering the world after reading this book. It's hopeful, inspiration, and makes you feel good about yourself. The chapters all start with a common lie we tell ourselves on why we can't do things and then she goes into why you can. I loved everything about this book and cannot say how amazing it is enough.
READ THIS IF….you love Jesus, inspirational women, and female empowerment.
GHOSTED by Rosie Walsh |
After being in a bit of a reading slump/feeling like it was taking forever to finish a book, I decided to read GHOSTED by Rosie Walsh hoping it would engage me quickly and I could read an enjoyable book fast. That is exactly what this book was and more. After an intense week with a man she met in her hometown while visiting, Sarah is ghosted by Eddie. Something sets off her gut that he didn't just bail on her and he's really gone missing. The story was compelling because not only do we have the current ghosting missing person potential, we also have hints to something else that happened in Sarah's life when she was younger. As the story unfolds and the pieces are put together, I was shocked in more than one way. Just when I was getting a little bored with this book about halfway through and 99% convinced I figured out the twist it took a turn for the unexpected. Books rarely leave me shocked, not gonna lie, and this one did in the best way. A twist I didn't see coming, a theme and exploration of emotional depth I wasn't anticipating, and a story that really had me turning the pages until the middle of the night to finish. While there is a part of me that could see how the reader wouldn't like how the story turned thematically, I really enjoyed it. It brought a new layer and level of depth to this story that I honestly never expected and I found myself getting more emotional than I ever could have thought!
READ THIS IF…you're looking for AN engaging, twisty, and also heartfelt story.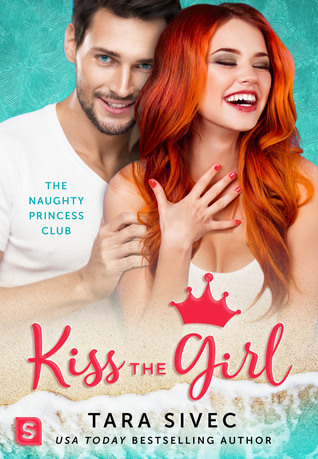 KISS THE GIRL by Tara Sivec |
Having read and LOVED the first two books in the series, I was DYING with excitement when I got the KISS THE GIRL widget in my email. Ariel was the character I was most looking forward to because, oh my goodness, she is so foul-mouthed I can't help but love a girl after my own heart. I think Tara Sivec did an amazing job of balancing Ariel's crass attitude and vulnerability. Like all women, no matter our facade we all have weaknesses and pasts and people who have hurt us. Even us loud-mouthed obnoxious women who swear like sailors have hearts and feelings and insecurities. It felt very relatable and I couldn't help but find a few parallels between myself and the heroine. The romance was both heartfelt and snarky. The swoons evoked by Eric and all the subtle ways he showed Ariel he loved her and valued her melted my cold, black heart.
My other favorite part of this book and series as a whole are the friendships between Cindy, Belle, and Ariel. Those girls have each other's BACK, you guys! They are sassy and defensive and ready to jump through fire to defend their friends and help them. Love love loved this! And the nods and parallels to the original fairy tale and how Sivec made it applicable to a present day story was incredibly clever, per usual. This crazy amazing balance of fairy tale throwbacks and female empowerment gave me life.
READ THIS IF…you love Disney princesses, female friendships, snarky heroines and the men who worship them.
What have you been reading and loving lately??